Posted on
November 18th, 2015
by heatherwestpr
Tubelite is exhibiting at ArchitectureBoston Expo (ABX) in Booth #434
Tubelite Inc.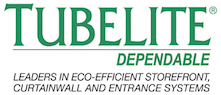 announces SIGCO, Inc. will serve as its sales representatives, effective Dec. 1, 2015. SIGCO's team will work with glazing contractors in Maine, Vermont, New Hampshire, Connecticut, Rhode Island and Massachusetts assisting with Tubelite's storefront, curtainwall and entrance systems.
SIGCO, founded in 1986, is an independently owned and operated, glass and architectural metal fabricator and distributor based in Westbrook, Maine. "We're proud to be a long-time distributor of Tubelite's products and excited to expand our work together. As New England's largest glass and architectural metal fabricator, we know the benefit Tubelite's dependable service and products, especially its thermal performance products, can bring to customers throughout New England," said SIGCO's president, Dave McElhinny.
Steve Green, Tubelite's vice president of sales and client services, agreed and added, "We will now utilize SIGCO's field sales representatives to serve glazing contractor accounts that will buy on a direct basis from Tubelite. SIGCO's presence and continued expansion and commitment in the New England market make this association a great fit."
Established in 1945, Tubelite celebrates 70 years of dependable service, fabrication and distribution of architectural aluminum products. Part of Apogee Enterprises, Inc., the company is an industry leader in eco-efficient storefront, curtainwall and entrance systems, and recognized for its fast, reliable and consistent delivery. Tubelite's corporate office, fabrication, warehouse and shipping operations are located in Walker, Michigan. Its Dallas location provides additional fabrication, warehouse and shipping operations and its facility in Reed City, Michigan, houses the company's aluminum extrusion operation.
Tubelite and its staff are members of the American Architectural Manufacturers Association (AAMA), the American Institute of Architects (AIA), the Construction Specifications Institute (CSI), the Glass Association of North America (GANA), and the U.S. Green Building Council (USGBC).
###
Filed under: AAMA, AIA, CLIENT NEWS, CSI, GANA, People, Tradeshow Thoughts, Tubelite Inc., USGBC