Posted on
September 1st, 2014
by heatherwestpr
The American Architectural Manufacturers Association (AAMA) is still accepting registrations for the upcoming AAMA 2014 Fall Conference. It will be held Sept. 14-17 in Westminster (Denver), Colorado. An action-packed week in the heart of the Centennial State has been planned for attendees, who can test their industry knowledge with a game show during the Product Supplier Display, and enjoy a night on the town at Red Rocks Amphitheatre. Those interested in making a hotel reservation at the Westin in Westminster may contact Florence Nicolici directly.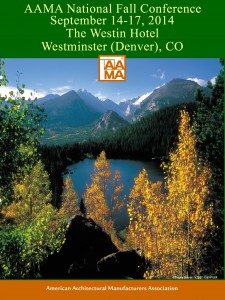 Exhibits
Exhibitor spots for the Supplier Product Display are still available, although time is running out to join the 14 currently filled. This opportunity is offered to Category 1 supplier members and provides the opportunity to exhibit products and services during an informal reception. Exhibitors are able interact with a number of potential customers without the added expense of separate trips or time away from the office. Local architects, specifiers and other industry professionals also have been invited to attend.
While at the display, attendees can test their knowledge by playing "Are You Smarter than a FenestrationMaster?" and win discounts off FenestrationMasters™ courses and exams. Players can earn savings on the only publicly available professional education and certification program by correctly answering questions from the course work.
Networking
Attendees also can look forward to optional Sunday events, including a Colorado Foothill sightseeing tour with a visit to the Coors Brewery and a golf scramble tournament. The tour will be from 8:45 a.m. to 1 p.m., and the golf scramble will have a 9 a.m. tee time. A group outing for dinner and karaoke at the Red Rocks Amphitheatre will happen Tuesday night starting at 4 p.m.
During these networking events and throughout the conference, attendees are encouraged to tweet using the hashtag "#AAMAConf" and mention @AAMAinfo.
To stay in the loop and have a custom-built agenda in your pocket all week, attendees can download the free AAMA app. During the Fall Conference, app users can receive notifications with pertinent event information, connect and interact with AAMA staff, take notes during conference sessions and much more. The app is available in the iTunes App Store and on Google Play.
Speakers
Michael Hodgson, ConSol founder, has more than three decades' worth of experience in making new and existing buildings more energy efficient. His presentation, "California Regulatory Proceedings Impacting the Nation," will be given Tues., Sept. 16. Hodgson will discuss how California's leading edge energy policy is driving the market to time-of-use energy pricing, incentivizing ways to reduce peak load and detailing how the policy impacts energy choices in buildings.
Additional speakers will include Dick Doyle, who will present an update on The Vinyl Institute, and Sherwin-Williams representatives Kathy Andersson and Eric Crosby, who will give an aluminum-focused presentation on coatings trends and residential and commercial exteriors.
Spouses
On Monday, spouses attending the conference are invited to roll up their sleeves from 9-11 a.m. to fill backpacks with school supplies to benefit a Title I elementary school serving underprivileged children in the Westminster area.
A Title I area school is designated as such for having a poverty level at or above 40 percent. Children attending Title I schools are typically in homes where the household income is under $23,000 per year. AAMA will be filling and delivering more than 400 backpacks at a cost of $22 per backpack.
Volunteers will travel to the school to distribute the backpacks as well. Thanks to those who helped sponsor this important project and for World Vision's efforts in bringing this cause to the conference.
World Vision is a humanitarian organization dedicated to working with children, families and their communities to help them reach their full potential by tackling the root causes of poverty and injustice. AAMA and World Vision have been working together since February 2012.
###
Filed under: AAMA, ASSOCIATION NEWS, Tradeshow Thoughts | Comments Off