Posted on
October 1st, 2014
by heatherwestpr
Opened in Spring 2014, Hamilton Ink Spot quickly is earning a reputation as Saint Paul's premier printmaking resource and exhibition center. Funding through the John S. and James L. Knight Foundation, as part of its Knight Arts Challenge, will help Ink Spot bring hand-printed original artwork to new audiences in Saint Paul and throughout the Twin Cities.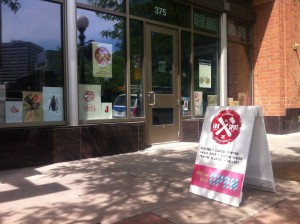 Knight Foundation's $50,000 matching grant will support the expansion of Ink Spot's artistic and educational activities. These include: daily classes, a drop-in studio for families and individuals, a print cooperative for mid-career artists, paid internships, a mentorship program for high school-age artists, a mobile printmaking program serving public school students, and exhibitions of local, regional and national printmaking artists.
Master printers Bill Moran and Monica Edwards Larson oversee Ink Spot's initiatives and its 2,200-square-foot location on Wabasha Street. The space offers Hamilton Wood Type and Printing Museum's merchandise for sale, as well as a co-op space for Twin Cities' artists to create and exhibit their original posters, cards, clothing and other printed work.
"Although Hamilton Ink Spot is located in highly visible, street-level space in the central core of downtown's Saint Paul, additional support is necessary to raise awareness of printmaking as an accessible art form," said Moran. An internationally respected artist and designer, Moran has worked since 1986 in Saint Paul and since 2011 from the Wabasha Street location. He has been involved with the Hamilton Wood Type and Printing Museum since 2001.
"The cities that are the most vibrant are those where every person considers themselves a creative being. Hamilton Ink Spot helps forward that idea by making printmaking more accessible in Saint Paul," said Dennis Scholl, vice president of arts for Knight Foundation.
"Hamilton Ink Spot creates access for artists and others of all skill levels and backgrounds, enriches the public's connection with direct arts experiences, and substantially contributes to the cultural vitality of this community," praised Larson, owner of Sister Black Press, a letterpress, book arts and design studio.
Joe Spencer, the City of Saint Paul's director of arts and culture, agrees with Larson. He enthusiastically elaborated, "Ink Spot is the perfect gathering place to both showcase the amazing talent of this national design mecca we call home. Ink Spot is a wonderful place to bring great artists and designers together along with their enthusiastic audiences."
"Ink Spot's launch and ongoing stability will be helped enormously with the infusion of Knight Arts Challenge funds, especially during this important first year of operation. This is a chance to share a treasure of American printing with Twin Cities' design and letterpress lovers," added Moran.
The Jo

hn S. and James L. Knight Foundation's Knight Arts Challenge funds ideas that engage and enrich St. Paul through the arts. Knight Foundation supports transformational ideas that promote quality journalism, advance media innovation, engage communities and foster the arts. The Foundation believes that democracy thrives when people and communities are informed and engaged. For more, visit KnightFoundation.org.
Hamilton Ink Spot is the first venture to which Hamilton Wood Type and Printing Museum lends its name. Based in Two Rivers, Wisconsin, Hamilton is the only museum dedicated to the preservation, study, production and printing of wood type. With 1.5 million pieces of wood type and more than 1,000 styles and sizes of patterns, Hamilton's collection is one of the premier wood type collections in the world.
To learn more about Hamilton Ink Spot's co-op memberships, workshops, internships, merchandise and exhibition gallery, please email bill@blincpublishing.com or visit https://www.facebook.com/hamiltoninkspot.
###
Filed under: Type-Paper-Print