Posted on
June 30th, 2014
by heatherwestpr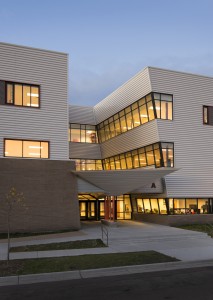 Kodet Architectural Group, Ltd.'s design of the Hmong College Prep Academy has earned a 2014 Merit Award from the American Institute of Architects' Minneapolis chapter (AIA Minneapolis). Kodet Architectural Group, a Minneapolis-based full-service architectural firm, was honored at a luncheon celebration on June 19. During the presentation, jurors shared their thoughts from their visit to this charter school and the insights gathered from the academic leaders involved in its successful development.
The award-winning Hmong College Prep Academy (HCPA) is located at 1515 Brewster St. in St. Paul, Minnesota. The 78,300-square-foot, $12.6 million project opened at the start of the 2013-14 school year. The facility exemplifies HCPA's goals of providing a well-rounded college preparatory education and a world cultural-infused school environment for 1,130 K-12 students and their families.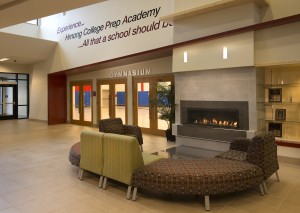 Throughout the project's design, the architectural team worked closely with HCPA's 150 staff and administration members to resourcefully repurpose the existing structure and to provide a creative design that meets the school's space needs. The renovation and addition created auditorium/theater space, two cafeteria areas for elementary and high school students, additional gymnasium space, and new high school classroom and collaboration spaces.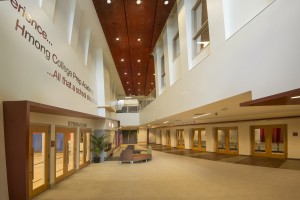 Further supporting academic and community interests, the school's addition is pursuing LEED® certification through the U.S. Green Building Council to make tangible the good stewardship practices HCPA promotes daily in the classroom. "We are proud to 'go green' and become a LEED-certified school," stated Christianna Hang, superintendent of the HCPA District.
Compared to a typical school design, the addition anticipates meeting LEED certification goals to reduce overall power consumption 10 to 15 percent, reduce water use up to 40 percent, capture and clean 100 percent of stormwater that falls on the site, and use environmentally friendly interior materials to promote the health of students, staff and faculty. Unique technologies incorporated into the design include a porous paving system with underground infiltration basins for stormwater capture, all-native landscaping designed to use zero irrigation, large windows for daylighting, and high-efficiency plumbing fixtures.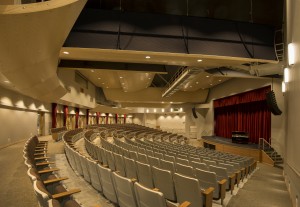 Constructing a more secure, controlled entrance and an open gathering area outside of the new performance theater were also key parts to HCPA's addition design. The 477-seat theater offers a full stage, green room, production area and other amenities to allow students and the community to produce plays, vocal performances, dance recitals and host other events.
AIA Minneapolis Merit Awards tell a story of excellence beyond design, reflecting the variety of forces that shape a building. Unique in its approach, these awards encompass the views of business professionals, real estate developers, community advocates, and academic leaders, as well as architects. For HCPA, their comments include such descriptions as "conscientious," "strong core," "nice interior" and "on budget with tight timeframe."
Superintendent Hang added, "I am very pleased to say that Kodet and their partners worked hand-in-hand with all constituents to create an amazing building for our students, families, communities and staff. We are incredibly pleased with our new building!"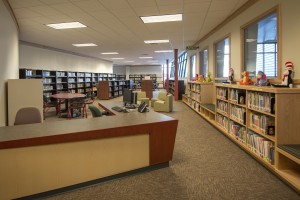 HCPA is one of four projects are recognized as 2014 AIA Minneapolis Merit Award Winners. Kodet Architectural Group also was honored for the Minnesota Department of Transportation Maple Grove Maintenance and Truck Station's design.
photos by Kodet Architectural Group, Ltd. and photographer Dana Wheelock
###
Filed under: AIA, Buildings + Infrastructure, CLIENT NEWS, Events, Green Goals, Kodet Architectural Group, Projects, USGBC