Posted on
June 26th, 2014
by heatherwestpr
* Kolbe is exhibiting at AIA Expo in booth #4441 *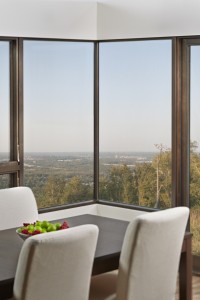 Kolbe continues to expand its VistaLuxe® Collection with the introduction of a new 90-degree corner direct set window unit, which will be unveiled during the American Institute of Architects (AIA) Expo and Convention 2014. Collaboratively developed with architects, the VistaLuxe Collection's contemporary designs utilize multiple units to create large expanses of glass. Minimal frames and sash optimize daylight openings and maximize viewing areas, while maintaining energy efficiency.
"The VistaLuxe Collection made its debut at AIA 2013 and we have continued to build on this success," said Cindy Bremer, Kolbe's vice president of marketing. Kolbe's VistaLuxe Collection includes casements, awnings, direct set windows, inswing and outswing doors and matching transoms, geometric shapes, a complementary multi-slide door, and now, a new 90-degree corner window unit.
"We are seeing an increased demand for 90-degree units as homeowners seek to open up their homes with corner views that seem to transcend structural boundaries and extend their connection with the surrounding landscape," Bremer continues. "These products give architects and design-savvy homeowners the flexibility to combine units into unique, compatible configurations, while maintaining symmetry and sightlines. Clean, fluid lines are delivered by the narrowest of frames."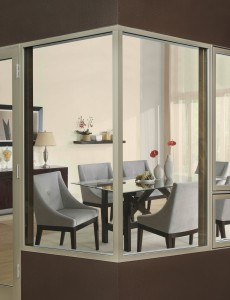 The VistaLuxe Collection products showcase a warm, wood interior with a selection that includes sustainably harvested species. The extruded aluminum clad exteriors may be painted in standard, custom and new mica colors, and all are backed with a 30-year finish warranty. Durable anodize finishes also are available in metallic tones.
A choice of Flush, Accent and Accent Plus style profiles are offered in the VistaLuxe Collection. The frame nosing, sash face, glass and stops always remain in the same plane across product types within a style choice. A range of glass choices assists in addressing different climate zones and performance needs.
The VistaLuxe Collection model on exhibit at the AIA Expo in booth #4441 features a 90-degree direct set corner unit with a post presented in a Flush style exterior painted in the new Cashmere Pearl mica finish. On the interior, the Alder wood species is enhanced with Coffee Bean stain. This display also highlights matching product selections from the VistaLuxe Collection: an outswing door on one side, and a casement and awning unit on the other. Each is paired with Satin Nickel hardware and a 3-5/8-inch jamb. All of the units are shown using LoE2-270 glass with a black glass spacer.
Design teams can easily communicate and visually customize dimensions and functionality for the VistaLuxe Collection's products using Kolbe's 3-D Revit® building information models (BIM). In addition to BIM tools, the website offers 2-D drawings; air, water, structural and thermal reports; warranties, installation and maintenance information, and online videos to demonstrate product operation and performance testing.
###
Filed under: AIA, CLIENT NEWS, Homes + Neighborhoods, Kolbe & Kolbe Millwork Co., Products, Tradeshow Thoughts