Posted on
May 1st, 2014
by heatherwestpr
The new Curious Collection® swatchbook welcomes Curious Matter® and expands to showcase seven grades of touchable, tantalizing sheets to pique creative professionals' interests. Complementing the other grades of multi-sensory papers in Curious Collection, Curious Matter is an avant-garde, uniquely textured paper made with potato starch.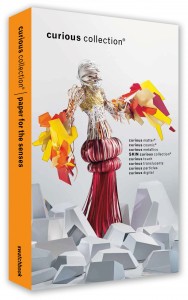 "Curious Matter provides an unexpected texture with a richly matte surface and deep, ultra-pigmented colors," says Ferkó X. Goldinger, marketing manager. "Curious Matter's texture is achieved through a revolutionary, patented process where potato waste, up-cycled from the food industry, is metamorphosed into a sophisticated and tactile paper. The raw potato starch used in this process is a by-product of the food industry and is released from the processing of potatoes into chips and fries."
The entire Curious Collection, all seven grades, now carries the Green Power designation. Renewable energy credits (RECS) from Green-e® certified energy sources are purchased to offset 100 percent of the electricity used to manufacture these products. The Curious Collection is also Forest Stewardship Council™ (FSC® C007796) certified and manufactured in ISO 14001 facilities.
The swatchbook's striking imagery highlights the distinctive texture of the Curious Matter Goya White cover. The textured cover offsets the silky smoothness of SKIN Curious Collection Extra White for the internal booklet. Goldinger describes the swatchbook's grades as:
* Curious Metallics – glittering alloy effects with a luminescent sheen offering a play of light
* Curious Cosmic® – otherworldly cover-only sheet with a remarkable soft matte metal effect
* SKIN Curious Collection® – exuding touchability with vibrant, even, matte colors and a smooth, sensual texture
* Curious Translucents – natural translucent papers that layer a sophisticated veil of show-through seduction
* Curious Particles – 100 percent recycled papers filled with gold, silver or white flecks that add interest and sparkle
* Curious Touch – featuring a warm, fuzzy feel reminiscent of a peach or ripe Camembert
The new Curious Collection swatchbook is available by calling 888-488-6742.
###
Filed under: Appleton Coated, CLIENT NEWS, Green Goals, Products, Type-Paper-Print