Posted on
February 21st, 2014
by heatherwestpr
Minnesota Do-Gooders Club will host its 2014 Content Conference on May 15, 8:30 a.m.-6 p.m., at the Ramada Plaza Minneapolis. The event will be filled with hands-on learning and inspiring stories from Minnesota nonprofit marketing and communications professionals. Registration is open at http://www.mndogooders.org. The early bird rate costs $90 through March 30, after which the rate will be $125. Attendance is limited.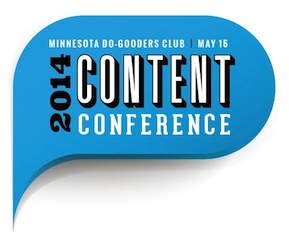 Building on the success of Minnesota Do-Gooders Club's annual panel discussion series and feedback gathered from past participants, this year's full-day conference format includes:
* Six breakout sessions in two tracks focusing on all aspects of content development
* A keynote from Monica Meyer, executive director of OutFront Minnesota and board member with Minnesotans United for All Families
* An inspiring talk from Butch Roy, executive director of HUGE Theater
* Lots of peer-to-peer networking opportunities
* A small group atmosphere to facilitate discussion
* A take-home binder with all of the tools and tips from every session
Breakout sessions include:
* Prepare and Plan: Creating content strategy – Diana Lillicrap and Wendy Ruyle, 5 by 5 Design
* Uncover and Understand: Identifying and appreciating your audience – Nancy Paul, Mental Health Association of Minnesota, and Heather West, Heather West Public Relations
* Apply and Adjust: Using and measuring your content strategy – Diana Lillicrap and Wendy Ruyle, 5 by 5 Design
* Adapt and Assist: Using accessibility to strengthen everyone's web experience – Joe Dolson, Joe Dolson Accessible Web Design
* Create and Compose: Finding and refining the right words – Matthew Foster, My favorite Matthew
* Engage and Enlighten: Exploring the logistics of in-house video – Ben McGinley, McGinley Motion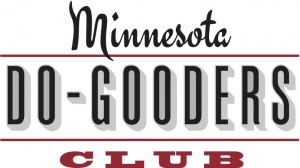 "We wanted to build on our event series from last year. Through survey results we learned that our attendees were craving information about content — how to create it, how to distribute it and how to manage the entire process. So, we built a conference around exactly that," says co-founder Wendy Ruyle, co-owner of 5 by 5 Design, a strategic marketing, graphic design and creative communications firm.
"Additionally, we are eager to create an atmosphere where professionals can exchange insights, so we are keeping attendance to 50 spots. The breakout sessions will be hands-on with many opportunities to learn from one another," adds co-founder Matthew Foster, owner of My favorite Matthew, a company that specializes in web design and development for nonprofits.
###
Filed under: 5 By 5 Design, ASSOCIATION NEWS, Events, MN Do-Gooders Club