Posted on
February 10th, 2014
by heatherwestpr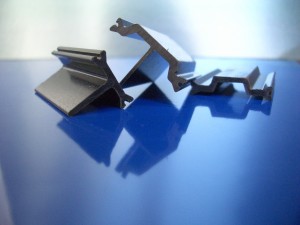 Anticipating customers' needs, Technoform Bautec North America, Inc. has increased capacity by 29% to meet growing demand for its polyamide thermal insulating strips. Used in aluminum-framed windows, doors and façades, Technoform Bautec's strips optimize thermal performance helping products achieve the high-performance criteria to meet current and future design requirements, energy codes and green guidelines for both residential homes and commercial buildings.
"Today's market continually demands fenestration products that deliver the highest performance," explained Technoform Bautec general manager John Cari. "Our customers can rely on us to meet anticipated market growth through 2020."
Mike Berry, extrusion manager for Technoform Bautec, also noted, "Increases in capacity allow us to maintain our make-to-order lead time of 7-10 days or less. Globally, we are the industry leader producing more than 984 million feet of strip each year. We offer more than 600 standard strip designs plus numerous customer-specific designs."
Linetec's vice president of operations, Andy Joswiak, are among Technoform Bautec's customers pleased about the increased capacity. He said, "We count on Technoform to provide us with its thermal strips for many of our customers' most energy-efficient window and curtainwall products. Although most building owners and occupants may never know it, these strips are crucial to ensuring our customers' products perform as intended, meeting the highest thermal performance and condensation resistance."


Technoform Bautec enhanced its production flexibility by adding new equipment and reconfiguring its existing facility's floor space in Twinsburg, Ohio. It also has reinforced its essential secondary systems with globally shared production processes and technology, all with respect to its ISO-certified quality assurance practices.
"Beyond quality, reliability and on-time delivery, these improvements and expansions provide customers with supply security, budget-conscious tooling and flexibility for lower volume orders," added Cari. "We are proud to be a trusted partner and well positioned to meet the industry's needs into the next decade."
###
Filed under: CLIENT NEWS, Green Goals, Linetec, Products, Technoform Bautec