Posted on
June 22nd, 2013
by heatherwestpr
Opened in February 2013, the Wisconsin Veterans Home of Chippewa Falls, Wisconsin is the newest one of three nursing homes in Wisconsin dedicated to veterans and their families. Wausau Window and Wall Systems provided more than 300 of its 3250i-XLT INvent™ windows, helping to ensure that fresh air and connection to the outdoors are made accessible to people of all ages and abilities.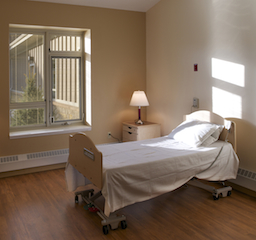 This new 72-bed, 83,000-square-foot skilled nursing care home employs 90 people, and was paid for by state and federal funds. The U.S. Department of Veterans Affairs (VA) uses a 75-mile radius to define the market area for a state veterans' home. It estimates 397,644 veterans currently live in Wisconsin and counts more than 17,000 veterans aged 65 or older in the 14-county area surrounding Chippewa and Eau Claire Counties. Demonstrating its need, the Wisconsin Department of Veterans Affairs (WDVA) facility already had received 199 reservations a month prior to its opening.
Wisconsin-based Frisbie Architects designed the single-story facility with a similar feel to the veterans' former family homes with four "communities" of 18 rooms in each "neighborhood." Each resident has a private room and bathroom. Private seating areas and smaller dining areas also help create a sense of community.
Accommodating all members of this community, the Wisconsin Veterans Home complies with Americans with Disabilities Act (ADA) accessibility criteria. Wausau's INvent™ Series family of windows feature ADA hardware options capable of meeting the operating force and limited motion requirements of ICC/ANSI A117.1. Wausau's health care market manager, Lisa May, LEED® Green Associate, explains, "Wausau's accessible projected windows operate with one hand, and require an operating force of five pounds or less to unlock, open, close and lock without making users need to tightly grasp, pinch or twist their wrists."
May and her colleagues can assist with other accessibility design considerations, such as locating and detailing operable windows to meet the ICC/ANSI A117.1's "reach," protrusion and approach area requirements for project-specific conditions. Wausau has tested a broad range of product options in compliance with the American Architectural Manufacturers Association (AAMA) 513-12 publication, which outlines laboratory test methods for accessible operable window products.
"The construction team was very focused on accessibility requirements," adds May. "Wausau offered them the peace-of-mind of a pre-tested, proven, accessible product, that could be delivered within a tight timeframe without need for project-specific prototype testing. With the Wausau INvent product family, no reductions in air infiltration performance or water penetration resistance are necessary in achieving five pounds operating force."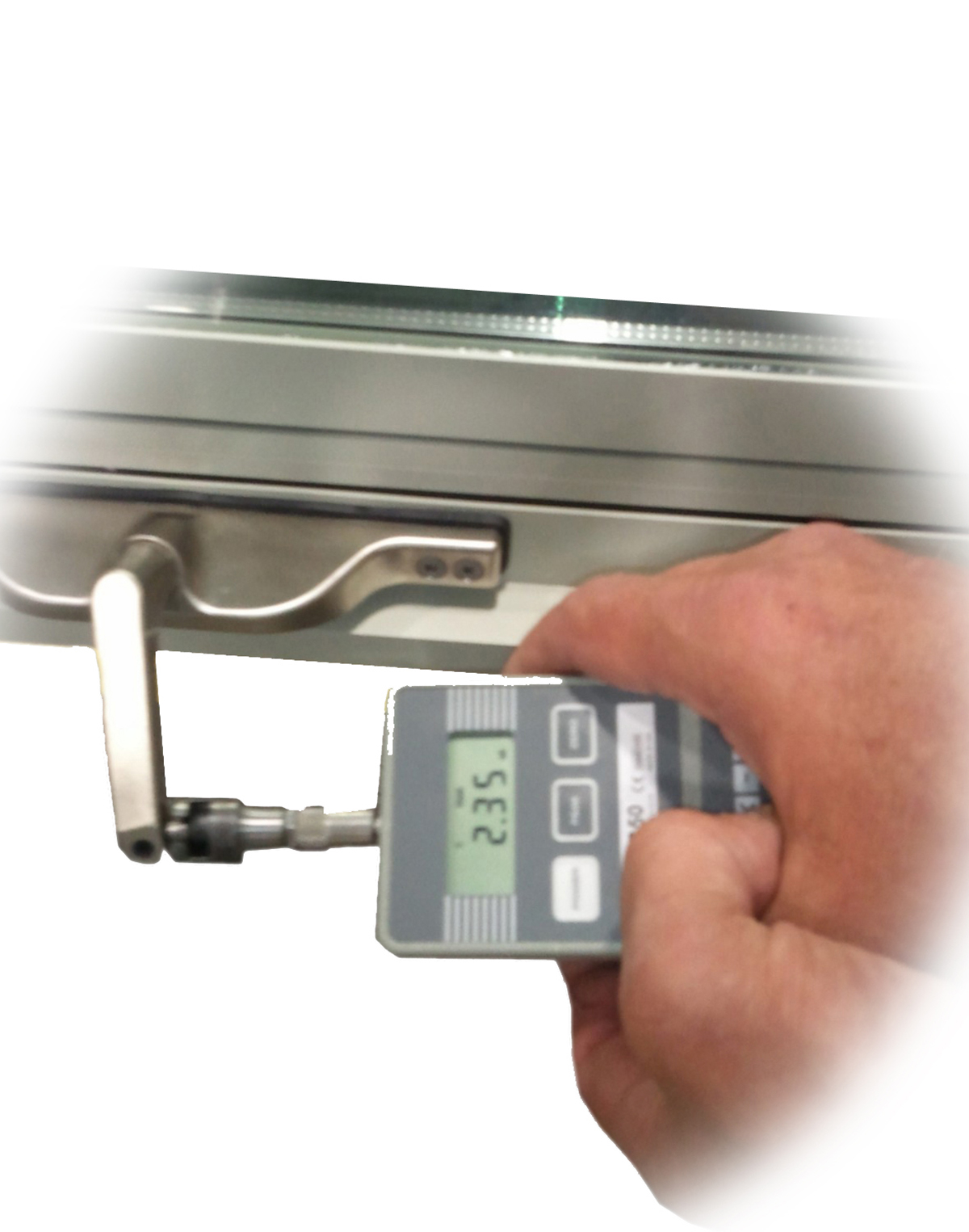 As part of the Advantage by Wausau® standard product offering, INvent Series' high-performance pre-engineered windows are backed with an industry-leading warranty of up to 10 years. Wisconsin Veterans Home's accessible, operable windows maximize energy efficiency and condensation resistance using Viracon's insulating glass and 24 mm XLT polyamide thermal barriers.
The combination of triple glazing and XLT thermal barrier delivers an overall unit U-Factor of 0.32 BTU/hr.sqft.degreeF or less, with a Condensation Resistance Factor of 59. Acoustic performance also is enhanced, with a Sound Transmission Class rating of 43 and an Outdoor-Indoor Transmission Class of 31. Integral between-glass antique white blinds minimize maintenance, while managing light and glare.
Along with daylighting and outside views, operable units present a seasonal opportunity for natural ventilation. Further contributing to green building goals, Wausau's extruded aluminum frames contain recycled content averaging 70% or greater. The windows' aluminum framing was painted in LT 607-70 "Sandstone" color by Wisconsin-based Linetec using a durable 70% PVDF two-coat in-house blend selected to suit the location.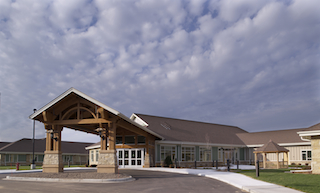 Situated in a park-like setting east of Chippewa Falls, the veterans home's tall, roto-operated awning vents offer expansive views of the surrounding landscape, as well as a year-round opportunity for fresh air when the weather allows. Charcoal-colored screens help keep out insects when windows are open. Easy-to-open linear operation latches lock vents in the closed position for security. The accessible hardware package imparts a familiar residential feel to the institutional dwelling spaces and common areas.
"This new veterans home is a shining example of quality care," John Garcia, told the Chippewa Herald at the dedication ceremony in January 2013. Garcia serves as the VA's deputy assistant secretary for intergovernmental affairs.
"The Wisconsin Department of Veterans Affairs has a long proud history of providing top-notch care to our state's veterans who reside at our veterans homes," said WDVA's secretary, John A. Scocos. "We are excited to provide the most modern living conditions and best health care to veterans, while also providing a lasting economic boost to an important region of the state."
**
Wisconsin Veterans Home at Chippewa Falls, 2175 East Park Avenue, Chippewa Falls, WI  54729; http://dva.state.wi.us/Homes-CF.asp
* Owner: Wisconsin Department of Veterans Affairs; Madison, Wis.; http://dva.state.wi.us
* Architect: Frisbie Architects, Inc.; River Falls, Wis.; http://www.frisbiearchitects.com/
* General contractor: Miron Construction Co., Inc.; Neenah, Wis.; http://www.miron-construction.com/
* Glazing systems – installer: Glacier Glass LLC; Baraboo, Wis.; http://glacierglassllc.com/
* Glazing systems – manufacturer: Wausau Window and Wall Systems; Wausau, Wis.; http://www.wausauwindow.com
* Glazing systems – glazing: Viracon; Owatonna, Minn.; http://www.viracon.com
* Glazing systems – finisher: Linetec, Wausau, Wis.; http://www.linetec.com
* Photos – Phil Weston
###
Filed under: AAMA, Buildings + Infrastructure, CLIENT NEWS, Homes + Neighborhoods, Linetec, Products, Projects, Wausau Window and Wall Systems