Posted on
March 18th, 2013
by heatherwestpr
Minnesota Do-Gooders Club hosts "Lights, Smartphone, Action! Telling Your Story through Video" on Mon., March 25, 5:30-7:30 p.m. at Joule, 1200 Washington Ave. S., Minneapolis. Individual tickets are $15 in advance and $20 at the door. Seating is limited. Tickets are transferable and available at www.mndogooders.org.
Panelists include: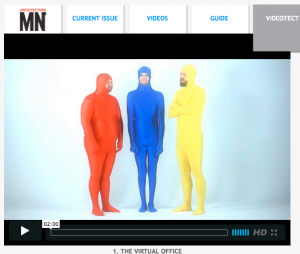 * Chris Hudson, editor of Architecture Minnesota
* Brant Miller, company member of Four Humors Theater
* Chuck Olsen, CEO of VidTiger
* Bill Stiteler, creative director of Studio Meddling
"Most organizations are aching to tell their story using video. Learn some simple steps to take and important missteps to avoid when turning abstract mission statements into attention-grabbing narratives," says Minnesota Do-Gooders Club co-founder Matthew Foster, owner of My favorite Matthew, a company that specializes in web design and development for nonprofits.
"In addition to seeing the panelists at the event, you also can listen to our free podcasts which feature many of the series' panelists," adds co-founder Wendy Ruyle, who also is co-owner of 5 by 5 Design, a strategic marketing, graphic design, and creative communications firm.
The next and final event in the series of Minnesota Do-Gooders Club panel discussions will be Mon., April 1, 5:30-7:30 p.m., "Great White Fail Whale: Steering Your Social Media Presence," with panelists Chris Oien of Minnesota Council on Foundations, Kate O'Reilly of CleverKate, Cary Walski of MAP for Nonprofits and Laura Zabel of Springboard for the Arts.
 ###
Filed under: 5 By 5 Design, AIA, ASSOCIATION NEWS, Events, MN Do-Gooders Club, So-Called Social Media