Posted on
January 2nd, 2013
by heatherwestpr
Minnesota Do-Gooders Club announces a nonprofit marketing and communications series beginning Feb. 25 and continuing each Monday through April 1, 2013. Each event will be held 5:30-7:30 p.m. at Joule, 1200 Washington Ave. S., Minneapolis. Series passes are available at www.mndogooders.org for $50 if ordered before Jan. 31 and for $75 if ordered later. Individual tickets will be for sale beginning Feb. 1. Seating is limited. Tickets are transferable.
"We believe connecting with peers leads to the best ideas and biggest inspirations, so we provide a forum where nonprofit professionals can exchange insights about our industry's best practices and technology," says co-founder Matthew Foster, owner of My favorite Matthew, a company that specializes in web design and development for nonprofits.
"Our goal is to increase the amount of good we are able to do by learning from one another's experiences, to strengthen our own work, and to raise the profile of all communications work done in Minnesota's nonprofit sector," adds co-founder Wendy Ruyle, co-owner of 5 by 5 Design, a strategic marketing, graphic design and creative communications firm.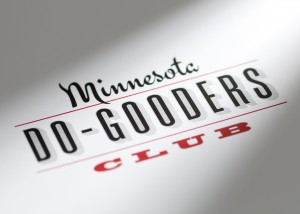 The 2013 Minnesota Do-Gooders Club series features six panel discussions with some of Minnesota's most innovative nonprofits and marketing consultants.
Feb. 25, 5:30-7:30 p.m., "Beauty is a Beast: Creating a Strong Visual Brand," panelists include Andrew Blauvelt, Walker Art Center; Carlo Cuesta, Creation in Common; Scott Mikesh, Scott Mikesh Creative; Adam Turman, illustrator; Mary Wickstrom, Mill City Farmers Market
March 4, 5:30-7:30 p.m., "It Takes a Village: Marketing through Volunteers and Advocates," panelists include John Capecci, author of Living Proof; Vince Opheim, Children's Hospitals & Clinics; Janene Riedeman, St. Cloud Hospital
March 11, 5:30-7:30 p.m., "Media Mayhem: Managing Public and Press Relations," panelists include Natascha Shawver, League of Rural Voters; Quentin Skinner, Guthrie Theater; Robin Smothers, Minneapolis Park & Recreation Board; Heather West, Heather West Public Relations
March 18, 5:30-7:30 p.m., "Cash in on Good Advice: Marketing for Fundraising," panelists include Jeff Achen, GiveMN; Peter Dross, Center for Victims of Torture; Doug Powell, Schwartz Powell; Nicole Anderson Stern, Minnesota Public Radio; Bob Weidman, Weidman Consulting
March 25, 5:30-7:30 p.m., "Lights, Smartphone, Action! Telling Your Story through Video," panelists include Chris Hudson, American Institute of Architects; Brant Miller, Four Humors Theater; Chuck Olson, Vidtiger; Bill Stiteler, Studio Meddling
April 1, 5:30-7:30 p.m., "Great White Fail Whale: Managing Your Social Media Presence," panelists include Kate O'Reilly, CleverKate; Laura Zabel, Springboard for the Arts
###
Filed under: 5 By 5 Design, AIA, Events, So-Called Social Media